KEYC - Youth Camp Etna
CAMPO EUROPEO PER I GIOVANI
(riservato a giovani kiwaniani)
 Chair Rosario Previtera (KC Fata Morgana Città di Villa San Giovanni)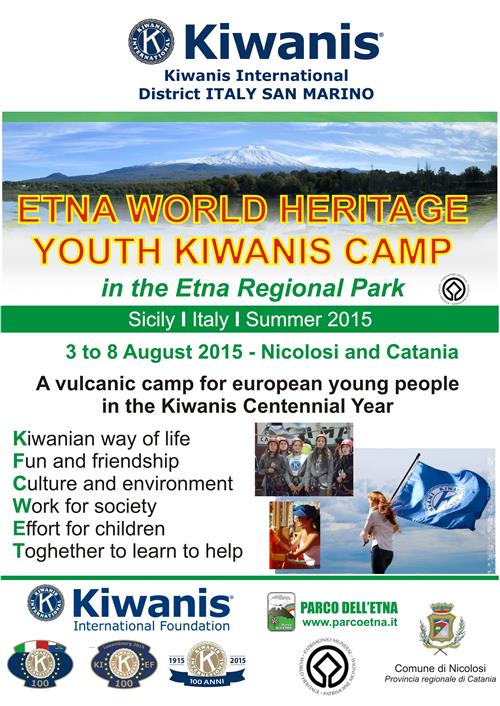 MODULO DI PRE-REGISTRAZIONE >>>
NUOVA COMUNICAZIONE DEL CHAIR ROSARIO PREVITERA >>>
Alcuni momenti - RASSEGNA STAMPA >>>
****************************
Youth Camp 2015
KI-EF YOUTH CAMPS 2015: CZECH REPUBLIC AND ITALY
As already mentioned the Committee for SLP (Service Leadership Program) of KI-EFwill organize two camps for youth  in 2015. From 15 to 20 July in Czech Republic  and from 3 to 8 August in Italy. Speaking English, between 16 and 23 years old: you can meet new people from all over Europe gather experiences about other cultures and learn to be a leader. A fantastic program in both camps.
The first one takes place in Czech Republic in Roudnice nad Labemhttp://en.wikipedia.org/wiki/Roudnice_nad_Labem  from 15 to 20 July. The local Kiwanis club has planned a lot of activities.  A service project with the production of a Kiwanis doll given to the hospital in Roudnice, many sports activities, a guide visit at Prague (Old Town and Prague Castle), excursion to a paper mill and fresh juice producer, workshop at pottery and of course … training sessions (leadership, communication) and presentations. Very special: the opportunity for a dragon boat racing in rawing channel in Racice.
The second one is planned in Italy at Etna Mount "Unesco World Heritage"http://whc.unesco.org/en/list/1427  in cooperation with Etna National Parkhttp://www.parks.it/parco.etna/Eindex.php and the neighboring municipalities from 3 to 8 August. A lot of fun and cultured activities will be organized learning the Kiwanis way of life. Rule games indoor and outdoor to known Kiwanis world in the Centennial Year. Simulation and project managing. Eliminate. Leadership. Team building. Service activities.
Have a look here at the website www.aeroporto.catania.it about low cost airlines and destinations (flight information) operated in Catania International Airport
Recently the official invitations has been send to all the district governors and district coordinators of KI-EF and will be published on the website of KI-EF. Here you will find more detailed information about the programs, the costs, the transport, the participation procedure etc
FUN. ACTON.FRIENDSHIP
Martin Poesen
Chair SLP
Registration
If you are interested in participating in a Summer Camp 2015, then apply quickly. Application forms are available 
by contacting :
by clicking